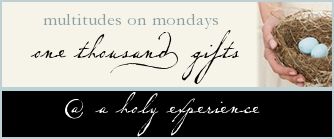 "Count your blessings name them one by one." The counting of gifts continues, and I am naming them one by one (101-116).
I give thanks for mentoring relationships, and stitches sewn by a little girl.
A doctor's bill reduced from $128.00 to $0, and forsythia cuttings blooming in a jar.
I give thanks for books delivered in the mail, no tears during math, iron sharpening iron, completing my final exam, and homemade birthday cards.
I give sweet thanks for listening to L belt out praise and worship into her baseball bat microphone, packages arriving in the mail, and 13.8 I used to carry are now gone! I give thanks for precious gifts from children - homemade cards, songs, decorations, and breakfast, and watching Daddy and daughter make a birthday cake together.
Amazed by the gift of watching my little girl learn to knit, and giving hard thanks for a friend who is still trusting as she waits on a much needed medical procedure.