Each year I am required by law to provide a portfolio of our learning to be reviewed by a district approved supervisor. In year's past, when I describe our physical education program I say something like, "My children are very active. They spend a lot of time outdoors running, riding bikes and scooters, playing basketball, wiffle ball, and football together. In the winter months they play Wii fit and Wii sports." I was thoroughly convinced that was enough physical activity for them. However, after using
Family Time Fitness
, I see the importance and value in providing my children with a physical
education
. They need to learn how to do exercises correctly and work on things like strength, endurance, balance, and flexibility. The best thing about adding
Family Time Fitness
to our schedule is the fact that it is fun for the
entire
family and it helps me get a little extra workout in addition to my normal workout routine.
We have done our Family Time Fitness lessons in our basement,
in our living room,
and outside.
I received the
Fitness 4 Homeschool curriculum
, Core 1 for children ages 4-13 to review and we've consistently been adding it to our schedule since we started school on August 14th. We started out taking two days to do the physical fitness assessment with our children. I am confident when we test again in the next week or two, our children will be encouraged by their progress. My husband and I knew immediately once we began the assessment that this program was
NEEDED
in our children's lives. Yes, we are a very active family, and in the past couple years my husband and I have lost a lot of weight because healthy eating and exercise is a part of our lifestyle. However, when you look at your children and realize they don't know how to do a push-up correctly, you realize that there is
VALUE
in physical
education
being added to a homeschooler's lifestyle. You can
click here
to read the scope and sequence of this curriculum.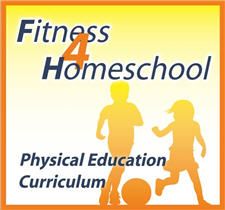 There are 260 total lessons in this curriculum and they are easy to follow. The PDF lesson plans are formatted nicely (see the layout below), easy to read, and have
clickable links to youtube videos
for exercise and game illustrations. For instance, if you don't know how to do a stretch called "the bowling ball," you click on the link provided and can watch. It is so great and helpful! You are never left guessing whether or not you are teaching your children incorrect form. Not only do they give you detailed lesson plans, but they also provide one page lesson summaries. I look over the detailed lesson plan and review any exercises, games, or activities I am unfamiliar with. Then I print the 1-page summaries, put them on my clipboard for the week and I'm ready to teach P.E. all week long.
Lesson Layout
Equipment Needed (this is all simple stuff you probably already have around our house like jump ropes, hula hoops, balls, etc...)
Warm Up (3-4 exercises)
Activity/Game Play (3-4 fun and sometimes challenging activities/games)
Cool Down (3 exercises)
Outdoor Activity (an activity to get you outdoors as long as weather permits)
Do you think having your kids go outside and run and play is enough physical education for them? I used to think so until I started using Family Time Fitness. I encourage you to take the time and read more about this program. It is simple to add into your day and you might find yourself getting a little more physically fit along with your children.
Pricing and Ordering Information
This program costs only $57.00. This is not $57/month, this is a one time payment of $57.00.
There are other products available from Family Time Fitness as well.
To read more TOS reviews,
please visit the Crew's blog page.
*Disclaimer: I received this product free for review purposes only. All opinions are my own.*