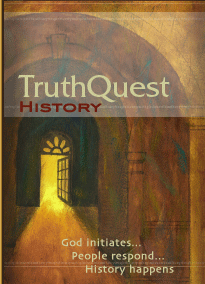 American History for Young Students III is for students in grades 1-6 and covers history from 1865 to 2000. This history guide will help you plan lessons on the Wild West, World War II, the Wright Brothers, the Vietnam War, the tragedy of 9/11, and many more. You can view the table of contents by
clicking here
and a sample section by
clicking here.
Truth Quest is different than most other history curriculum because it helps the learner see God's presence throughout history. Their "motto" is "God initiates...People respond...History happens." This curriculum serves as a guide and offers many suggestions to enrich your studies with literature. At first glance, you might think this curriculum is too easy because it's a lot of reading. You might be saying to yourself something like the author shares in the introduction of this product:
" OK. So what about Day One. Tell me how I should plan each week. "Well, that's up to you. But you mustn't panic! Remember, this history is a new kind of history. You'll see that it takes on a life of it's own. You'll gather the little kids on the couch to read aloud to them, or you'll have kids sprawled around (or sitting in an orderly row) as each is absorbed in their books. At dinner time or while driving to piano lessons you'll have the most fascinating conversations, guaranteed! Older students can more deeply research special topics. Yes, this can be enough. It's that simple.
How can history lessons take a life of their own?
Children can write reports, give oral reports, build models to show what they've learned, put on skits, notebook, lapbook, sculpt, or paint. The possibilities are endless. A Journey Through Learning has created notebooking and lapbooking products to supplement these guides and can be purchased at
TruthQuests' website.
There are writing assignments throughout the guide called ThinkWrite. ThinkWrite 1 for this guide is worded in this way: "Though it may be hard, try to explain why it is so important that we know God created us and the world." Your children will have to go beyond their beliefs and communicate effectively WHY they believe the way they do and I think this is KEY to having rock-solid faith!
If you are not sure how TruthQuest can be used in your homeschool, then
click over to read
how other families have implemented this resource into their learning. If you are unsure what guide to purchase, you can
click here
for suggestions.
Pricing and Ordering Information:
There are two options when ordering. You can order a hard copy of the book for $29.95 (plus shipping and handling) or a PDF download which costs $24.95 (zero shipping costs).
There are optional companion resources available for this product. Do you like to lapbook, notebook, or use timelines? If so, you might be interested in these resources you can find by
clicking here.
To read more reviews on various TruthQuest products, click over to the
TOS Crew's blog.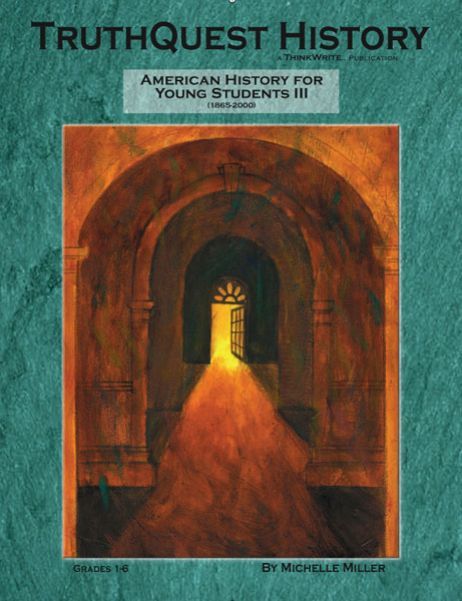 *Disclaimer: I received this product free of charge for review purposes only. All opinions are my own*