Do you often struggle with the "what's for dinner?" question? If so,
e-mealz
is an affordable meal planning service that will not only help you plan delicious dinners for your family, but help you save money while doing it. Their menus are planned based upon local sale ads and seasonal items to help you stretch your grocery budget.
Who is e-mealz for?
Well, anyone who has to shop and cook. However, it is especially nice for someone to use if they need to get used to shopping on a budget because menu planning is the first step to take. E-mealz will help you learn how to plan meals, shop with a list, and stick to your list (which helps you stick to your budget). This is a service you pay for, but don't worry, it is very budget friendly.
What does it cost?
You will be billed $15.00 every 3 months for this service. This averages out to $1.25/week.
What is included in this service?
7 dinner menus each week that serves 4-6 people or 5 dinner menus each week to serve 2 people.
What did our family think?
I plan our family's menus every two weeks. I get online and look at the sale ads to see what meat is on sale and then I plan from there. We shop at Aldi and a local grocery store so I already shop with a frugal mind-set based upon my menu planning and where I shop. However, I was truly blessed by this service. I agonize over menu planning each time and often find myself in a rut. Since using this service we have tried new recipes, added variety to our menus, and it has been a great experience. The process is as simple as their 1,2,3 motto states:
Head over to the
e-mealz website
to learn more and see if this is a service that would bless your family. There are meal plans available for some special dietary needs as well (vegetarian, gluten free, low-fat, low-carb, and portion control).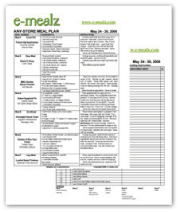 The only thing I didn't like:
In a three month cycle, you are only allowed to change your menu plan once. When I first set-up my e-mealz account, I chose a low-carb option and saw immediately it would not work for my entire family. I would personally like it, but my family would not. So, I chose to the Aldi plan and I am stuck there. The Aldi plan has worked out okay because I already shop there, but there were a couple weeks I would have enjoyed having the opportunity to see if another store's menu plan would have been a better fit for our family. Our family does not eat things like white bread and white rice, so when items have to be substituted the cost is more, but this is a sacrifice I am willing to make for our health.
To read more reviews from other TOS Crew members, please head over to the
Crew Blog now!
*Disclaimer: I received a three month membership to e-mealz free for review purposes only. All opinions are solely my own.*