Always Ice Cream
is a website designed for 7-12 year old girls to interact with one another (if they choose), play games, earn scoops (which is like money) to pay for fun activities like purchasing pets in Pet World and furniture for their shop and home which are all things the girls can create in this fun little online space.
On this fun learning website, your daughter can learn where all the states are.
She can also practice her typing skills.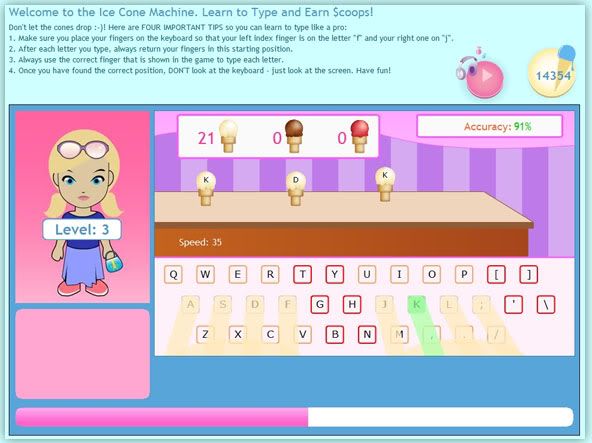 Pet World is another favorite. Your daughter will enjoy hatching eggs and raising pets in this fun little playful place.
It's fun and sometimes it can be educational. I would recommend Always Ice Cream to my friends.
My Thoughts:
I will be honest, at first glance I didn't think this site would be a big hit, but I was totally wrong. I am actually considering purchasing a membership for my youngest daughter for her 7th birthday. I like how I receive weekly reports via e-mail telling me exactly what my daughter has been playing and how she's advancing through the various levels. When my daughter has free time and asks to go on this website I am glad because I know she is safe, enjoying herself, being creative as she designs and creates things for her shop, and also learning as she plays the various games.
What does Always Ice Cream Cost?
$4.99/month, $29.99/year or $99.99 for a lifetime membership
*Disclaimer: I received a free membership to Always Ice Cream for review purposes only. My opinions are my own.*