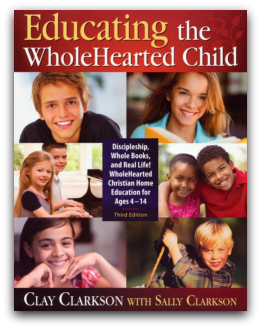 As a member of
The Old Schoolhouse Crew
, I received a 300+ page book from
Apologia
which helps parents provide their children with a wholehearted Christian education using real life and whole books. If the discipleship of your children is not your primary focus in your home, then this book is a must-read. Even if the training and teaching of your children is your focus, we all need encouragement and direction and that is exactly what you will find in Clay and Sally
Clarkson's
third edition of
"Educating the

WholeHearted

Child."
Some people may want to know why the
Clarksons
have updated this book again. In the book's preface they share, " We have never written books just to have something to sell. We write because we have something more to say." The
Clarksons
have fifteen more years of lessons about homeschooling and parenting to share since their last revision and that is why they chose to revise and expand this resource for today's home educating families.
This book is huge and it is packed full of Scripture to not only help you with the academic side of educating your child, but more importantly to help you nurture and disciple your children. There are four sections to this book and they include:
Section 1: Home
Chapter 1: The Christian Home - Learning to Be at Home with Christ
Chapter 2: The Christian
Homeschool
- Learning at Home to Be with Christ
Chapter 3: Home Nurture - Shepherding Your Child's Spirit to Long for God
Chapter 4: Home Discipleship - Shaping Your Child's Heart to Live for God
Chapter 5: Home Education - Strengthening Your Child's Mind to Learn for God
Section 2: Learning
Chapter 6: The
WholeHearted
Learning Model - Living and Learning Together at Home
Chapter 7: The
WholeHearted
Learning Home - Creating a Home You Can Learn Within
Chapter 8: The
WholeHearted
Learning Child - Understanding Your Child
Chapter 9: The
WholeHearted
Learning Youth - Beyond the
WholeHearted
Child
Section 3: Methods
Chapter 10: Discipleship Studies Methods - The Study of the Bible
Chapter 11: Disciplined Studies Methods - The Study of the Basics
Chapter 12: Discussion Studies Methods - The Study of Ideas
Chapter 13: Discover Studies Methods - The Study of Learning
Chapter 14: Discretionary Studies Methods - The Study of Living
Section 4: Living
Chapter 15: Family - Keeping the Vision Alive
Chapter 16: Structure - Keeping the Homeschooling Together
Chapter 17: Order - Keeping the Home Together
Chapter 18: Support - Keeping the Spirit Strong
There is also a challenge in the postscript at the end of the book and resources to help guide you to quality books and forms to use in your home as you strive to wholeheartedly educate your children.
This book is such a treasure I honestly do not even know how to begin to explain to you how wonderful I think it is. I wish I could purchase a copy for all my home educating friends. Clay and Sally
Clarkson
are parents who have truly walked the walk. They began educating their first child in 1988 and started Whole Heart ministries in 1994. The
Clarksons
have four
homeschool
graduates and they are all living for and serving the Lord. I am not saying this book is a fix-all because parents have to be willing to commit fully to Christ and invest in their children's lives. However, this book will help you learn what a powerful privilege it is to nurture your children's hearts, minds, and souls. . Choosing to educate your child at home will not automatically make your children turn their hearts towards Christ and His ways; there's a lot more involved and this book is your handbook for a Christ-centered education and it will help you focus on things of eternal value rather than temporal.
Pricing and Ordering Information:
This book is priced at $22.00 and can be ordered by
clicking on this link.
You can also find a link to read a sample chapter.
*I received this book free for review purposes only. All opinions stated in this review are my own*