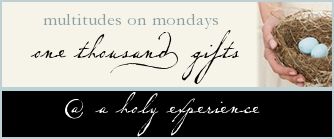 217) Gaining health and strength while losing pounds.
218) Nature walks
219) Warmer weather brining neighbors outdoors more.
220) Women to pray and study God's Word with.
221) Planting flowers and vegetables.
222) A family that makes grocery shopping fun.
223) Children running and playing in the yard with friends.
224) Memories - thankful for memories made with my mom that I can share with my children who have no memories of their Nana Norie.
225) Squirrels hanging upside down from our bird feeder.
226) Birds flying, chasing, perching, eating, and chirping.
227) Celebrating birthdays with friends. Bounce houses, silly string, cake, and lots of noisy children.
228) Phone conversations with sisters.