Last week was a rough week. It was a major battle within the confines of my mind. I do not feel comfortable sharing all the details, but with that said, I have been clinging to 1 Thessalonians 5:18 that says, "give thanks IN all things..." (emphasis mine). I am reminded that I do not have to give thanks FOR the trials, but I can give thanks IN them. I give thanks because I know who the Lord is and I know His faithfulness. Dwelling on His character, giving thanks and praising Him is what keeps me humbled at His feet and focused on Him. I have a choice to make every single day, and I am striving to make the right choices - to be joyful, pray without ceasing, and give thanks no matter what the circumstances may be (1 Thessalonians 5:16-18).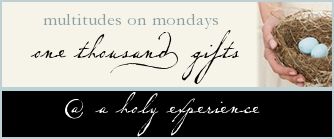 Thank You Father, for these gifts...
229) Libraries, parks, and ice cream coupons
230) Hummingbirds
231) Planting vegetables and flowers
232) My encouraging husband
233) Trustworthy and faithful God
234) Daily bread
235) Knowing God is enough. He loves enough and gives enough. He is sufficient in all things.
236) Even in the midst of hurt, You still give hope.
237) Sunshine after many days of rain.
238) Butterflies, hummingbirds, robins, cardinals, and finches - just a few things I enjoyed seeing while enjoying a cup of tea outside this morning.
239) A slower pace
240) Little girl's fever - gone!