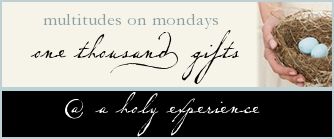 I am thankful for the giver of this list. "Every good and perfect gift is from above" (James 1:17).
175) Laughter and giggles that make gloominess disappear.
176) Playing at the park.
177) Exploring the woods in the Springtime.
178) Bursting colors from trees and bushes.
179) Freedom to study Bibles in public.
180) Waking up to bright sunshine and bird songs.
181) Playing games together as a family.
182) Slow family time. Much needed and I'm grateful.
Click the graphic above to read more from this community of gift list makers. This is a community where we all give God the glory for all His gifts and call them grace.