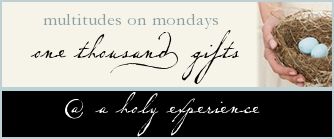 Even though I normally post my list of thanks on Mondays and link up over at
A Holy Experience
, I still wanted to take a moment and post my list today (even if I am a little late).
168) Seeing teenage girl rewarded for hiding God's Word in her heart.
169) Shopping with my two little girls.
170) Trees swaying in the wind.
171) Homeschool Mom's Support Group!
172) First bouquet of daffodils.
173) Little girls' tight hugs that delay Daddy leaving for work.
174) Time with friends