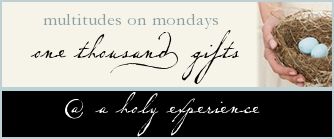 Thank you Father, for these gifts...
27) Little girls wearing flip-flops around the house on a cold winter day.
28) Ice coming and going quickly
29) Strength and patience to take care of a 3rd sick child.
30) Little girl taking piano lessons
31) Birds singing
32) Beautiful sunset seen through the woods
33) New haircut
34) Watching my little boy make his own books.
35) Real mail
36) Healthy family
37) Little girl filled with JOY because she gets to go to the store all by herself with Daddy.