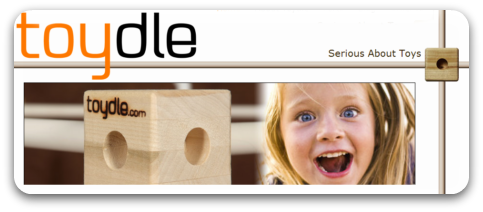 Do you see the excitement on this little girl's face? I am hoping I see that same expression on my children's faces on Christmas morning when they wake up to find this:
Keep reading because I have an awesome Toydle Fort giveaway to share with you!
A Toydle Fort will bring
fabulous family fun
into your home! With a little imagination, you and your children can create anything you want with a Toydle Fort. I can already see ours being a castle up on a hill, a watchtower for a soldier to keep his city safe, or maybe even a puppet stage. The possibilities are endless. There are no directions included when you order your Toydle fort because you are free to create any design you desire! However, there are pictures and videos on
the website
to help get your creative juices flowing.
Do your children like making their own forts by stringing up blankets over beds, chairs, and tables? If so, then a
Toydle
Fort would make a perfect gift! When it is time to put the fort away all the blankets and sheets used can be folded and put away, and the toydle fort pieces are tucked neatly in the included storage bag. You can also purchase a
Toydle
Fort for your children and there are two models to choose from.
Pricing and Ordering Information:
The 45 square foot fort costs $149.00
The BIG
Toydle
Fort (double the square footage) costs
$229.00
These forts come with a wonderful storage bag and clips to secure your sheets and blankets to make your fort a super hideout! This means no more blankets and sheets falling off the forts you make!
Toydle
Forts were created by a Dad tired of buying poor quality toys for his children. I love the fact that these forts are made in America!
Click here
to read more about this family-owned company based in the United States! You can also
"like" Toydle on Facebook!
I have some really awesome and fun news to share. You can enter for a chance to
WIN
a
Toydle
Fort over at the
TOS

Crew's blog
. The TOS Crew is not just giving away ONE fort, but THREE!!!!! The giveaway is also for the
BIG
Toydle Fort! How cool is that? Help spread the word about this awesome giveaway and support a family-owned business and a made in the U.S.A product! Click over to the
Crew's blog NOW
to enter for your chance to WIN!
*This giveaway is for U.S. residents only. TOS Crew and Staff are unable to enter.*