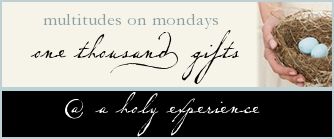 We have created some sort of thankful tree for several years now. The children write what they're thankful for on leaves and we hang them on the tree. This year Heath and I joined in. For this Multitude on Mondays post, I will share the list of gifts our family wrote down.
#446-484
Home ~ Holy Spirit ~ a backyard to play in ~ friends ~ mom ~ candy ~ food ~ milk ~ fun family time ~ fried chicken ~ stores ~ movies and popcorn ~ coats ~ forgiveness ~ house ~ God and ~ family~ hot husband ~ trails ~ Nikki's love ~ lunch ~ nature ~ toys ~ medicine and doctors~ cake
~ Christ ~ peanuts ~ The Bible ~ warm drinks ~ water ~ hot chocolate ~ drinks ~ laughter
~ Sissy ~ clothes ~ dinner ~ mom and dad ~ apple cider ~ breakfast ~ brothers and sister
I think we were thirsty one day when we wrote down things we are thankful for. Did you notice how many beverages were listed?
I won a copy of
"One Thousand Gifts"
last week over at
"Uplifting Words."
Please take a moment and visit "Uplifting Words" because you will be blessed and encouraged if you do. When I left a comment for a chance to win I began praying about who I would give the book to if I won. I can't wait to receive the book in the mail so I can mail the book to a friend of mine as a gift. Speaking of gifts..
."One Thousand Gifts"
would make a lovely Christmas gift. I would recommend it to anyone who desires to walk closely with the Lord and truly live out 1 Thessalonians 5:16-18 - to be joyful always, pray continually, and to give thanks in all things.
Now that all our leaves have been removed from our thankful tree, we have transformed it into a Jesse Tree as we do our Advent devotional readings to keep our hearts turned to Christ as we prepare for Christmas. Ann Voskamp has a
free download
for all her subscribers.