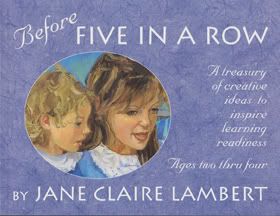 Before Five in a Row
is a resource recommended for children 2-4 years-old. This book provides activities for parents to do with their young children that are not only educational, but fun and guaranteed to help you make a lot of memories together. The book's introduction states how "the time between ages two and four should be a time of sharing, hugging, reading, singing, dancing, puzzles, blocks, outdoor excursions, swinging high, playing in the sand box and enjoying fascinating introductions to the wonderful world of life." I couldn't agree more! This is also the philosophy for early childhood education I hold as well. If you'd love to cuddle up with your child and a book, and use that book as a springboard for all sorts of fun activities, then you need to learn more about
Before Five in A Row
.
My youngest child is six, but I used her during the review process of this book. I read to her the titles she could choose from, and then we went to the library. We checked out "We're Going on a Bear Hunt" and "Blueberries for Sal." We spent one week on each book. We read each book a few times and each day we did some of the sample activities given in the book. The types of activities included for "Blueberries for Sal" include Bible, math, history, classification, two stories in one, science, art, and music. Look at how this mother enjoyed "Blueberries for Sal" with her two young children over at
Delightful Learning
. Go ahead and look. Doesn't it bring a smile to your face? Doesn't it make you want to spend more time having fun and learning with your young children? If so, then
Before Five In A Row
is for you and your family!

Ordering Information:
Five in a Row products can be bought exclusively at Rainbow Resources.
Price: $35.00
To order your copy, click
HERE.
There are two parts to Before Five In A Row. Part one is the activities to go along with the 24 children's books. The children's books can either be purchased separately or checked out from the library like our family did. Part two is the "Parent's Treasury of Creative Ideas for Learning Readiness." This section truly is a "treasure" as stated to help parents come up with age-appropriate activities such as reading readiness, coordination, large and small motor skills, art, and more.
*I received this book free of charge for review purposes only. All opinions are my own.*