One of the first things I read after opening
the book
you see below is this Chinese Proverb:
I Hear and I Forget,

I See and I Remember,

I Do and I Understand.
The message within this Chinese Proverb is the backbone of the
AIMS Education Foundation
. They believe in giving students hands-on activities in order to better learn both math and science concepts. It is often not enough for a child to simply hear a concept explained or see a teacher do the problem. They must be given opportunities to do the problems themselves in order to understand and apply their learning.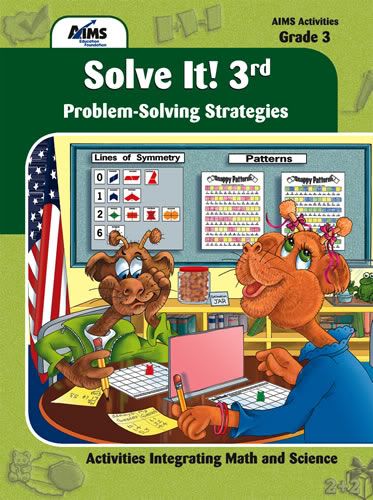 In
this 240 page book
, you will find 29 different activities to enhance your child's problem solving strategies. Your child will work on problem solving strategies, use manipulatives, write number sentences, draw out the problem, guess and check, organize information, look for patterns, use logical thinking skills, work backwards, and wish for an easier problem. There are also fun problem solving practice problems in the back of the book. Here's an example of one of those practice problems:
If you have to use 15 or fewer coins, how many different combinations of coins can be used to make $1.00?
I have started taking one of these practice problems each week and sticking it into my son's weekly work folder. He can choose what day to work on the problem, but he has to solve the problem and hand it in to me by the end of the week.
One of my favorite things about this book is how the publisher grants permission to each person or classroom to make up to 200 copies of any portion of this book. So, for the home educating family, this means you can use this book for all your children. There is a wonderful CD in the back of the book that you can pop into your computer and print things off with ease.
So far, my son and I have used this book and we have done activities with a snowman to figure out how many different ways you can dress him when you have a top hat, baseball cap, a scarf, and buttons. Another activity has you take a larger word and has your child try to find other words within the word and then figure out what fraction of letters you used. For instance if the word is MATE and you find the word AT, you used 2/4 of the original word.
The activities in this book are a nice supplement to your math curriculum and help teach more critical thinking skills than most math text books. The activities are easy to plan and implement into your day. I believe the time spent is well worth it and I believe most children will find them more enjoyable than sitting and practicing math facts on a worksheet.
Ordering Information:
Price: $24.95 (This price is for the book and CD)
Click
here
to order today!
To read more reviews about this product and other products from AIMS Education Foundation, click over to the
TOS Crew's Blog
. Crew members reviewed other grade levels of math and science resources from AIMS Educational Foundation.
I received this book free of charge for review purposes only.