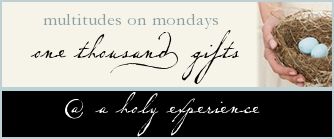 Thank you Father for these gifts:
364) Homemade Bread
365) Homemade Butter
366) Seeing love displayed in "sickness and in health" in a couple I love dearly.
367) New school year - new beginnings
368) Cool breeze flowing through open windows.
369) Kids who show their Momma grace.
370) Playing ball and laughing together.
371) Husband fixing my broken sunglasses.
372) Encouraged to see two teens living for Christ.
373) A friend wrestling with God.
374) Week #1 - DONE!
375) Little boy progressing in his math lessons.
376) Payday Friday = family time, grocery shopping, and eating lunch out!
377)Happy children because they get to stay up late on Friday night.
378) Peace that Christ gives.
As I take time throughout the week to make my thankful list, it brings such joy each week when I sit down to type them all out to share on my blog. It's like giving thanks a second time and this constant reminder that my God is good and loving gives me immeasurable peace and joy. It causes me to pause again and bend my knee and humbly offer this thanks to Him once again.