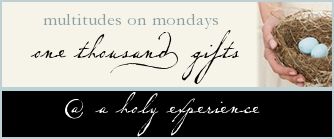 Thank You Father for these gifts...
297) Pantry to store food (I have been using boxes since January 2010).
298) Baby watermelons beginning to grow.
299) Slow morning
300) Extra family time as we celebrate the 4th of July.
301) Little boy teaching me about fish.
302) Snuggling on the couch at the end of a "funky" day.
303) Little girl and piano lessons.
304) Rest
305) Husband helping with supper on piano lesson afternoons.
306) Soft, gentle rain
307) Friend's colorful flower garden
308) Arriving at piano lessons on time - no construction detours
309) Friends - conversations, food, and laughter.
310) Tennis for Kids - DONE!
311) Praying husband
312) Pastor who was transparent as he preached.
313) A church with many on their knees
314) Friends to help me (a decorating challenged woman) put together my VBS classroom.
315) A husband who helps with laundry
316) Expectancy and Excitement!