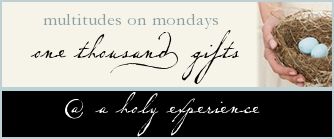 Not giving thanks speeds things up, increases stress, and quite frankly, makes me one yucky person to be around. I feel like my world is spinning so fast and I just want to hit the pause button so we can slow down. I didn't post my list of thanks last week because I only had a few written down and before I knew it the week slipped away from me. Nine days passed without me writing down one single gift in my journal. No wonder I am overwhelmed, wound tight, and feel like I'm going to explode with busyness and the stress it brings.
Father, thank you for these gifts. Thank you for showing me how great my need is for You and how much better I see you when I slow down, taste life, and give thanks.
290) Kids and tennis
291) 1 Corinthians 1:4 - Comforting others with comfort we received from Him.
292) Fresh cut daisies
293) Plans to travel home.
294) Fresh raspberries
295) Encouragement from others
296) In my difficult thanks I am shouting, "My God is still good!"