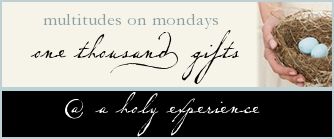 1 Thessalonians 5:16-18 is one of my favorite passages. This is how the Contemporary English Version Translates it:
16Always be joyful 17and never stop praying. 18Whatever happens, keep thanking God because of Jesus Christ. This is what God wants you to do.
So here is my list of thanks to share this week as I "keep thanking God..."
206) Shop vac to clean up rain water in my basement.
207) Towels to dry off little boy's mud puddle splashin' feet.
208) Things planted last year coming up again this year!
209) Wind blowing to dry up water.
210) Piano teacher.
211) Hugs that don't want to let go.
212) Little girl praying for her Daddy's safety as he drives away in heavy rain.
213) Weddings
214) Gardening
215) Heart Beauty Talks with my girls.
216) My AWANA T&T girls - They bless, encourage, and challenge me!