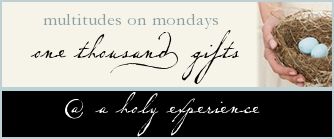 Today I am joining this journey of
JOY
seekers, but fighting for
JOY
is something I've done for many years now. Back in November, I wrote this is my journal.
I must fight hard for JOY, and part of that fighting is warring against the disease of perfection. This disease is cured by my thinking just like Philippians 4 teaches me.




I've been depressed.




I've been a mess.




My mind chatters and taunts me and makes me sicker when I don't get all the lessons done, or all the chores and laundry done, if my yard's a mess, and I don't exercise or lose any weight this week. As the chatter goes on, this disease of perfection goes on and on. But I find the strength to fight for JOY and reach for the anecdote - God's Holy Scriptures and I begin praising and giving thanks for who He is, all He's done, all He's doing in my life NOW, and all He's promised to do.




When I strive for perfection, I will always fail.




When I strive for JOY - I will be healed, restored, and renewed.




The fight for JOY starts in my mind. My thoughts give birth to attitudes and my attitudes develops into actions and the way I live and walk is changed when I start giving thanks and praising Him. Victory comes at the moment JOY steps in and transforms all the bad thoughts and shatters the bad attitudes. JOY is sweet, peaceful, and powerful.




I desire for JOY to saturate all areas of my life. For all areas of my life to drip with JOY!
This portion of my November journal entry was written in response to
this blog post
over at
A Holy Experience.
Scroll down and read the portion blocked off in blue entitled, "What to Do When You Want to Give Up and Stay in Bed."
So today, with some shyness I join this community of gift list makers, and with confidence I submit my very first list because I know the reason all these gifts exist, and it's all because of My Precious Jesus!
#1 29-year-old cancer-fighting Momma teaching me to love and live to the fullest.
#2 A husband who would rather look at me than the t.v.
#3 Extra hugs, cuddles, and kisses that come when little ones are slowed down by fever.
#4 Experiencing a true day of rest
#5 Grace to the full
#6 Thanksgiving to the max
#7 JOY to the overflow
#8 Tree branches wrapped in shiny ice.
#9 Cocoa to warm cold little ones
#10 Little ones planning Sunday school lessons because they're home sick and still want to pray, sing, and create
#11 The little boy who used to be a struggling reader, now reads his Bible every night.
Would you like to join this community of
JOY
seekers?
Click over
to read about a family who has been tested in this area and has truly "walked the walk and not simply talked the talk." God is good!