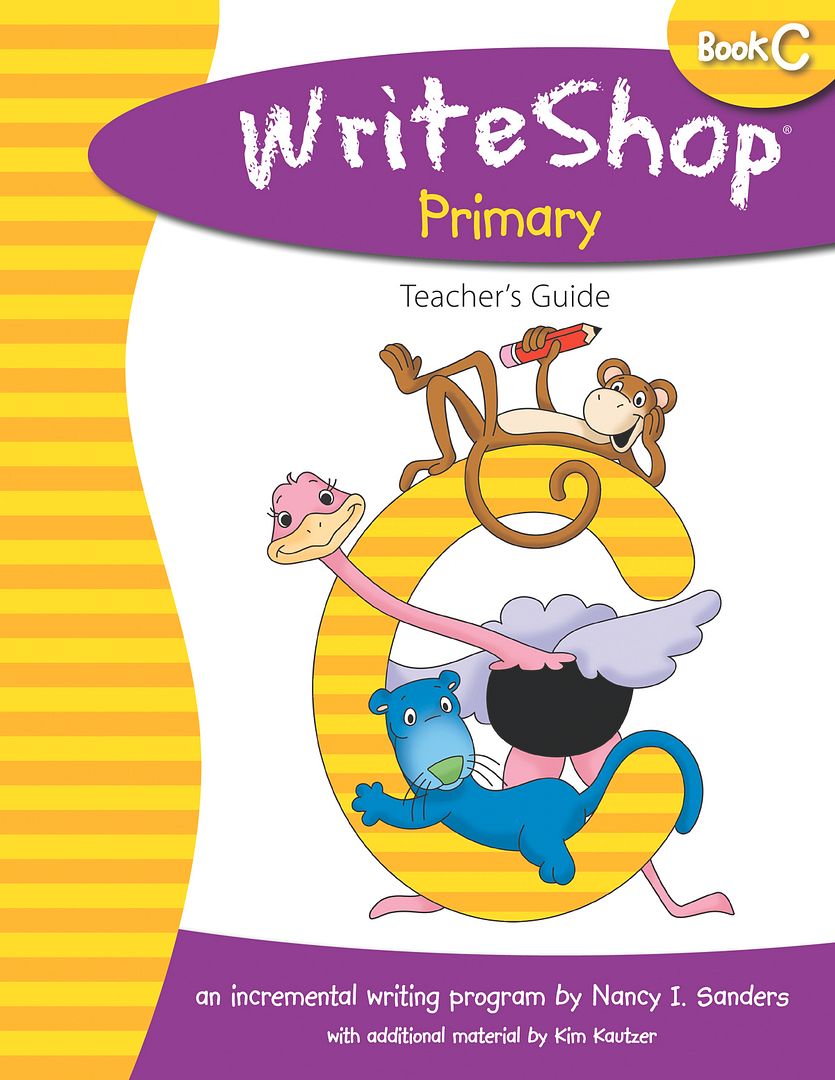 You know this is a good product when your reluctant writer asks, "Mom, when are we going to write another story?" My son has always struggled with writing and I'm confident he would tell you he actually hates to write. However, he has grown and matured a lot this year and writing has become easier with a lot of time, instruction, and patience on both our parts. At the beginning of the year we started lapbooking our way through the "Little House on the Prairie" series. I have seen my son's written narrations improve vastly this school year as a result of writing about what we read or lessons we learned from the books. However, I have never been able to get him to write for the sake of fun and creativity. My daughters on the other hand have journals FULL of original poems, stories, and songs. Because of the assistance and ideas I found from Write Shop, my son has ENJOYED writing creative stories and I am tearing up as I type this to share with you.
Proof that my reluctant writer wrote some great stories thanks to Write Shop!
I received
Write Shop Primary, Book C
to review for the TOS Crew. According to the teacher's manual, this book is recommended for children ages 7-11 who need to learn to:
1) Plan the main ingredients of a story before beginning to write.
2) Ask who, what, when, where, and why in order to add story details.
3) Organize story details.
4) Use descriptive words in his writing.
5) Write a short nonfiction article.
6) Summarize the contents of familiar books.
7) Collect research facts about a particular subject.
8) Write a simple, short report with an introduction, a body, and a closing.
9) Use standard spelling.
10) Check his own work for correct spelling and punctuation.
As I mentioned before, I have two children who love to write and my son is my reluctant writer. When you have a reluctant writer, you have to get involved with them. The teacher's guide puts it this way - "There's no way around it - your involvement with your child during the writing sessions is key to his success!" Some children can write easily, while others struggle. Write Shop will help you teach your child basic writing skills in an encouraging way as you lead by example and guide them.
The teacher's guide also helps you plan your teaching schedule by offering different lesson plan ideas. You may choose whether you want to take 1-3 weeks for each lesson. Once you decide what will work best in your homeschool and with your child - you will be provided with day-by-day instructions.
Some of the ideas in this particular level were a bit childish for my son, so I skipped over them. My son is a no nonsense, black and white kind of kid. If he doesn't see a purpose or value behind doing something he thinks it's a waste of time. The c
urriculum does a great job helping you to adapt this to multiple levels and we definitely did that. I had all three of my children participating in these writing activities (1st, 3rd, and 4th graders). I think the reason Write Shop worked so well with my son is because we got to sit down one-on-one and brainstorm ideas together. Once he got the who, what, when, where, why/how, and all the story details (beginning, middle, and end) figured out he wasn't afraid to just pick up his pen and begin writing (he had a plan and purpose). He was so proud once he was done and couldn't wait to read his stories to me. In the book they recommend having editing buddies (stuffed animals) for young children, but in my son's case his dad was his editing buddy. My son wrote Army stories and since his dad was in the Army, he thought he would make a great editing buddy (more one-on-one time with a parent).
Again, "There's no way around it - your involvement with your child during the writing sessions is key to his success!" Even though my 3rd grade daughter is more of a natural writer, she also benefited from Write Shop because it helped bring focus to her writing. Her writing has a tendency to go on and on and on and never come to a good conclusion. Her stories now have a good beginning, middle, and end. I often acted as my 1st grade daughter's scribe. Her stories were always her own, but she's not quite ready to do all that writing by herself though.
In the teacher's guide, there is something called a story ideas file box. We tweaked this a bit and cut out pages from magazines and instead of putting them on 3x5 cards, we glued them on paper and stuck them in a 3-ring binder rather than a small file box. When the children don't know what to write about, they can go to the story idea file box (or binder in our house) and look for some inspiration. Here's a picture of all three of my children working hard on their story idea pages.
Pricing and Ordering Information:
You can choose between either a print or pdf version of this product. The student pack is also reusable for single families use (which all homeschool families love).
Teacher's Guide: $32.95 for the print version or $28.95 for the pdf version
Activity Set Worksheet Pack: $4.95 for the print version or $4.50 for the pdf version
GOOD NEWS!!!!! The publisher of this product is offering a coupon code good until June 15th for 15% off for all Write Shop Primary or Junior orders!!!! Just enter coupon code

CREW15

at checkout!
*Disclaimer: I received this product free of charge for review purposes only. All opinions are my own.*