Ooka Island
is a downloadable online learning adventure designed for Pre-K to 2nd grade children to teach reading. As stated on their website, "The Ooka Method combines phonological development and language-rich text with comprehension activities so that children have the opportunity to achieve effortless reading."
Click here
to read more about the Ooka Method.
While children play games they are actually building literacy skills, and given opportunities to find special books to read at the bottom of the sea. After an appropriate amount of work takes place (it won't seem like work though) children get the opportunity to have 8 minutes of free time to play. Children can explore Ooka Island and get to hang out and have fun with these fun characters - Zobot the robot and the fun elves.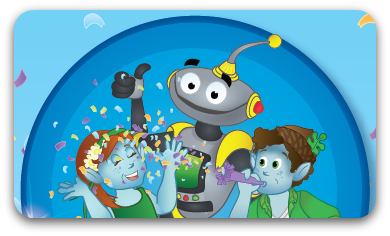 My 6-year-old daughter would like to share her thoughts about Ooka Island:
I love Ooka Island a lot, a lot, a lot, a lot! I like the games and you get to go to places, you get to read the books, you get to go to Pencil Playground, and my trophy room.
Mom's Thoughts: I like how this is something my youngest child can work (and play) on independently while I'm spending time with the older two children doing their more difficult subjects with them. She likes having something she can do independently as well because it makes her feel like a big girl.
Pricing Information for Ooka Island:
You can currently use the code
LAUNCHSPECIAL30 to save 30%
on a monthly subscription.
I encourage you to visit
Ooka Island's website
today, and click on the tab that says "explore the island." It will give you more of a visual idea of all the literacy activities they offer.
*Disclaimer: I received a free subscription to this site for review purposes only. All opinions are my own (and my daughter's).*