Tri-Cross is a game produced by a family-owned business called Games for Competitors. It sounds to me like this is a family who likes to compete when it comes to board games, and it is this competitiveness that led their son, Jeff, to take over the reigns of this company and re-launch this game on the market. He was sure this game would be a success if given more exposure to buyers. You can read more about Games for Competitors
here
.
When our package arrived in the mail, I was a little hesitant to play because it came with a CD to watch to teach us how to play the game. I thought, "Great! This is going to be so difficult to figure out that we're never going to actually get to play!" I was wrong. The video is helpful, but the instruction guide included in the game gives both visual and written instructions. I have played this game with my 8-year-old daughter who enjoys strategy games and also my 6-year-old daughter has done pretty well playing this game with us. The recommended age is for 10 and up, but if you're willing to allow younger children to play with you, it can be done.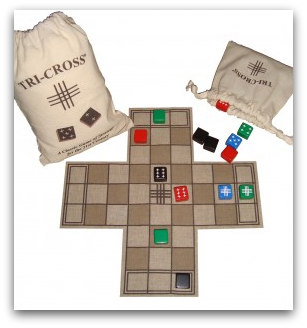 We have enjoyed learning how to play this game. Sometimes the games are really quick (which the girls don't care for), but sometimes the games take a little longer. Like any strategy game, it depends on how the game plays out.
Our family received both the standard and the eco editions of this game. The standard edition is like any other board game you'd purchase - all packaged nicely in a box. The Travel/Eco edition is packaged in a bag (see the picture above) and it would be great to pack and take on picnics or road trips.
Standard Edition: $24.95
Travel/Eco-Edition: $19.95
To read more reviews on this game, please click over to the
TOS Crew's Blog
!
*Disclaimer: I received these games free of charge for review purposes only. All opinions are my own.*