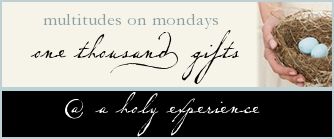 317) Birthday celebrations (for Heath)
318) VBS Lessons
319) New faces at VBS
320) Little boy wearing Daddy's shoes as he goes out to get the mail.
321) Safe travels to Canada.
322)Safety on work crews while in Canada.
323)Provision - good crew and good encourager
324) Family time in MO
325) Everyone under one roof again
326) Celebrating T's 10th birthday!
Summer has been one whirlwind of a season for us. We are thankful for all the Lord allowed us to do, His provision and watch care of our family. We are also thankful to all be back home together. However, Heath leaves Wednesday for another mission trip. The children and I are staying behind and we'll be praying for Him and the team as they go and help a church up in Maine reach out in their community. Our family is beginning to get back into our rhythm and home routine and it feels nice.