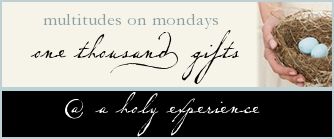 Thank You Father for these gifts...
278) Only having to clean up sticks after the storm. Our trees are all standing.
279) Little boy who can complete LEGO sets on his own.
280) Cool breeze coming through open windows.
281) Porch talks with husband.
282) Catching lightning bugs with little girls.
283) $1 movie tickets.
284) Listening to your children to talk to their Pa Pa on the phone.
285) Need new transmission in our one and only vehicle - opportunity to trust God for His provision.
286) Gentle rain.
287) Playing cards, watching movie, and going on a walk with my little girl.
288) Sick husband - time to rest
289) Watching children bless their Daddy.