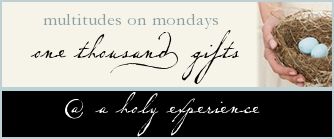 Thank You Father for these gifts...
249) Seeing a friend smile after seeing her cry five days before.
250) Air conditioning
251) Seeing things grow in our container garden.
252) Husband home after a long day.
253) Chatting with a neighbor.
254) Transplanting
255) Baby woodpeckers in our tree.
256) Helpful little girl.
257) Children who love me in spite of all my imperfections.
258) The peace that comes when my mind is fixed on Him - no matter how many times I need to refocus (Is. 26:3).
259) Following through on a commitment made - JOY!
260) The entire house sleeping until 8:30 am on a Saturday morning.
261) All five of us partaking in the Lord's Supper - realization of prayers answered for the salvation of all my children. Thank you, Lord!
262)
Sunday afternoon
play date
for the children.