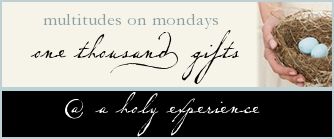 Thank You Father for these gifts...
263) Slowing down for two weeks before the summer madness begins.
264) Laughing with friends.
265) Little girl cracking an egg all over the floor - laughing as we clean up/
266) School year completed - testing and evaluation all done!
267) Enjoying a slower pace for a couple weeks.
268) Little Girls playing with baby dolls.
269) Summer reading
270) An encouraging note from my husband that made me smile.
271) Daisies starting to bloom.
272) He is my hope - my anchor (Hebrews 6:19).
273) Growing watermelon vine and baby zucchinis appearing.
274) Hearing the breeze move through the trees and birds singing.
275) Freshly mowed grass.
276) Church family picnic - fun, laughter, and making memories.
277) Protection in the storm.