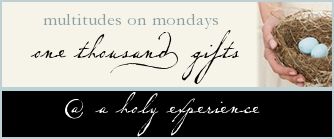 Thank You Father for these gifts:
126) A slow Monday morning.
127) Child laughter
128) Husband time
129) Sunshine and birds singing in the morning.
130) Rubber boots
131) Children helping with work.
132) Confession, asking for forgiveness, and receiving the gift of restoration.
133) Working in the yard together.
134) Reading and discussing Scripture with a friend.
135) Warm bright Sunshine.
136) Spending time at the park.
137) A restful Saturday.
138) Singing and laughter
There's a community of gift list makers, and each week some share their lists over at Ann Voskamp's
A Holy Experience.