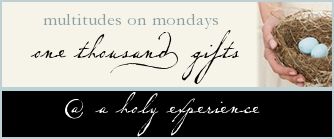 Thank You Father for these gifts...
117) More free time.
118) Prayer - what a privilege and gift.
119) Little girl prayers, "God I'm glad I have a family and we all love each other."
120) Ashes
121) Sump pumps
122) Little boy doing bedtime devotions with his sisters.
123) Baking pumpkin pie in March.
124) 14.4 pounds gone.
125) Forgiving husband